David Gregory Republican Candidate for
Citrus County Property Appraiser
Donate
Champlain Business College




Quality Control Inspector

NASA Apollo Lunar Lander Module

Amoco Gas & Store

owned Operated during Castleton yrs.

Substitute Teacher Citrus County
CR High School &




Citrus County Property Appraiser

Field Appraiser Retired 2017 14 years
David Gregory Republican Candidate for Property Appraiser
Graduating from Castleton University of Vermont in 1977, with a Bachelor of Arts Degree in Sociology and a minor in Education, I owned and operated an Amoco gas station and general store while I attended college and with an apartment over the store in Whiting VT, it was a perfect fit. Coming down to Citrus County Florida for a winter break I met my future wife, Corl, plans changed and I bought a home in 1978 and have been living in Citrus ever since. My father, Bernard Gregory, a retired Army Sergeant with 22 years in the military, having jumped with the 101st on D Day into Normandy, came to Citrus with my mother, Rita, after I had made Citrus our home. There are now 5 generations of our family who call Citrus home.
I have the unique experience of having worked with 4 different Property Appraiser Administrations with the Property Appraiser office. Starting with Ron Schlutz, Melanie Hensley, Geoffrey Greene and Les Cook, I've seen what works and what hasn't over the 14 years with the office. It is my aim to put the best aspects of each administration into play and by keeping an open door policy with the public addressing their concerns when they should arise.
Before the years at the property appraiser office I ran my own business, Liberty Delivery, with 20 to 30 employees depending on the time of the year. We serviced all of Citrus County and had a contract with Citrus County that was renewed every year for 18 years! That was and is something unheard of today.
As I said to the Citrus County Building Alliance, being the only candidate that has been cross trained in all fields of the Property Appraiser office I offer the complete package for the future of the builders and others who will need that expertise as we transcend these difficult times that lay ahead. I was talking with my barber yesterday she bought a home in Walden Woods and I explained to her about having to buy the yearly stickers for the home, much like getting your vehicle registration renewed each year and because you do not own the land your home is on the land belonging to Walden Woods LLC and even with an amended Tangible Exemption of $25,000 that still left a Tangible tax bill for the owners of the park property of over $107,000 in 2019, subsequently the owners of the homes in the park and those who may be renting homes in the park will see a bill for their share in some form or manner.
Most of you have met people from different areas of business that can do the talk but can't do the walk, I certainly have, in fact I've hired some during the years and having discovered their talk was the only thing they were good at! This is something you certainly don't want in the property appraiser office. Not only can I do the talk I can do the walk because of being cross trained in all departments of the property appraiser's office I know where potential problems may arise before they ever appear. Part two coming soon: CITRUS SLUSH
IT'S CALLED A "SLUSH FUND"

Mr. Gregory said, "If I had been appraiser when Les Cook wanted to go to Tyler Technologies for the Citrus County Property Appraiser's office online presence I would have gone online to see what kind of reputation the company had. Well, I wasn't the Property Appraiser and he didn't, but as one of the employees who would be working with the new system I thought it important to investigate for myself what the new system would have in store for us." And this is what he discovered: Nassau County, New York had been using Tyler Technologies for 5 years and had all kinds of problems with them, not the least of which, was the fact the company's system had been taxing the buildings of county government for property taxes! Nassau County is located immediately east of New York City. The county, together with Suffolk County to its immediate east, are generally referred to as "Long Island". Two cities, three towns, 64 incorporated villages, and more than 60 unincorporated hamlets are located within the county. At the time Mr. Gregory did his investigation into Tyler Technologies, he said "this information was readily available, over the ensuing years Tyler Technologies has worked out it problems with Nassau County, New York and now has a 20 to 30 million dollar contract with the county for it's online presence."
Mr. Gregory also stated, "it's not the end of the story and he had given this information directly to Gerry Mulligan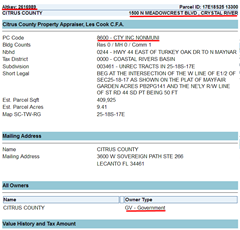 who doesn't want anything to do with it, least of all to publish it in the Chronicle." "After fulfilling the remainder of Geoffreys Greene's term and winning an election with no opposition Les Cook came to the Meadowcrest office in Crystal River, calling all the staff into the conference room and told them that he no longer wanted to use the "MARS" program that had been used since the Administration of Ron Schlutz." Gregory said, "Cook told everyone in the conference room he was tired of giving Schlutz's relatives the license fee for the program every year and that's how the office got involved with Tyler Technologies." Mr. Gregory went on to say, "the crux of the manner
was the fact that the Meadowcrest Complex acquire in 2014 for 3.3 million dollars was greatly overpriced and nearly broke the BOCC Budget and in 2019 the Property Appraiser's Office had it valued at 2.5 million, loosing $800,00 in fair market value in the intervening years and was and is still being assessed for property taxes!" "Buildings owned by the County are not taxed by the County, any commercial businesses in the complex would pay Tangible Taxes to the County. The question where is the money going starting with the $39,000.00 from the 2014 Tax Bill that the County paid to itself?"
Before the Complex was bought the Citrus County Board of County Commissioners and the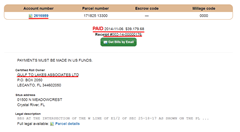 owners of the property, GULF TO LAKES ASSOCIATES LTD were signing off on permit for a 1.5 million dollar remodel together. And Citrus
County was left having to pay this bill, along with the 3.3 million purchase price. Mr. Gregory stated and further said, "When I met with Angela Vick, Citrus County Clerk of Courts and Comptroller, during my run against County Commissioner Ron Kitchen, Ms. Vick admitted the County was at wits end in trying to find a way to pay for all the manners related to Meadowcrest Complex purchase, then she said, Thank God, we finally figured out a way to pay it." Mr. Gregory stated, "According to the Florida Statute sited on the 2014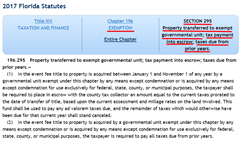 Citrus County Tax Bill which the previous owner of the property received but had sold the property to Citrus County making it fall into the bracket referenced by F.S. 196.295 which reads between January 1 and November 1 of that year by a governmental unit exempt under this chapter for any means except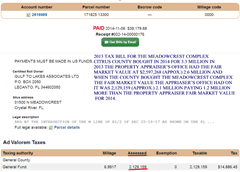 condemnation for use exclusively for federal, state, county, or municipal purposes, the taxpayer shall be required to place in escrow with the county tax collector an amount equal to the current taxes prorated to the date of transfer of title, based upon the current assessment and millage rates, on the land involved. This fund shall be use to pay any ad valorem taxes due, and the remainder of taxes which would otherwise have been due for that current year shall stand canceled." "The bottom line is Citrus County SHOULD NOT BE TAXING it's own buildings!"
Share if you want a better Citrus!

Have questions? Contact me BY replying to this email, if you want to
Working as a private contractor for Citrus County for 18 years, as owner-operator of Liberty Delivery with 15- 20 employees, we delivered all the county agenda's and other documents to the various boards and offices of the county as well as other deliveries in and out of Citrus County included but not limited to, doctor offices for labs specimens, transporting medical equipment between the two hospitals in the county during their early reconstruction, Damron's Parts (LKQ), etc. Additionally working for 14 years for the Citrus County Property Appraisers Office I have 32 years accumulated experience with the intricacies of Citrus County government!
Commitment-Innovation-Respect-Service will not be just a mantra but a mandate insisted upon by me and as such Florida Statutes will not be ignored on the whim of parties that approach the office. Ethical behavior and adherence to Florida Statutes will be paramount, everyone will be given their audience but the wheeling and dealing under the table will not happen! Tight budgetary guidelines will be implemented and there will be a renegotiated deal with the Texas firm, Tyler Technologies, which operates the property appraiser's website, resulting in higher operation costs for the office making this an utmost priority for my administration. It was a bad deal then and it's still a bad deal to paraphrase the words of President Trump! When in-house tasks are sent outside the state costs increase, the local workforce is negatively affected and our local economy loses! It's your tax dollars paying for all the bells and whistles!
IT'S TIME TO CLEAN THE SWAMP IN CITRUS!
Contributions can be any amount up to $1000 per individual or business
Questions asked on the Donation form are required per FL statute.

Contribute to the campaign either through the donorbox application (100% secure) below

or mail a donation to: